Ideas to achievements
Partners approach to digital creative thinking is very different. We've done away with the traditional agency structure where idea generation is owned by a single department; in its place is a deconstructed model where four-way creative thinking is highly valued. Our strategists, best digital creatives, media planners and innovators work collaboratively to create ideas that shift behaviour and deliver brand connection.
Our studio, like a hive, is bustling with ideas aiming to achieve desired outcome. We love to defy the norms to get a more than 'ordinary' response through stimulating ideas. And, because our creative thinking transcends the traditional, our ideas have full flex to be scaled and integrated across the breadth of communication platforms.
A desired outcome" – that is what we aim for as a result of all ideas! Whatever you expect from us, we do it better and exceed the best. As synchronized, untiring and perfectly turned out as bees, Partners prides itself for being the epitome of a perfectly orchestrated team providing honey-like results which reaffirms the old adage that nothing tastes as sweet as success.
more
Team
Opportunities to be explored with Partners
1.
Analytic / social / communication strategy
2.
Brand stylists & idea catalysts
3.
Identity & packaging partners
4.
Media partners (print, electronic, radio, trade etc.)
5.
Creative content partners
7.
Social influence & pr partners (performance recognition)
8.
Photography - still / live
11.
Technology & digital productions
12.
Communication evaluators / audits
Our Latest Assignments
Good work works. Our experienced team at Partners make it possible. And along the way, we make it fun. Browse the following to know how...
Jagran Shopping Utsav - whole event
Partners has put together a memorable campaign with Jagran Great Indian Shopping Utsav. From the concpet to the ideation, Partners created impressive print media creatives, an engaging digital media campaign and generated a huge overall response.
Swaraj Calendar
Swaraj is a brand that has been trusted over the years and Partners illustrated this connect it shares with the people in a magnificent calendar for 2018. With hand drawn images, the calendar has found much appreciation.
HCL@40
The HCL Enterprise celebrated it's Ruby Jubilee this year! Partners, with it's 7 years of association with HCL created their newsletter- HCL@40, which was circulated across 30 countries.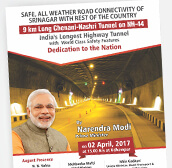 Chenani Nashri Tunnel
The longest road tunnel in India was inaugurated by Prime Minister Narendra Modi. Partners created the print campaign which wasprinted in about 100 multilingual publications all over India.
Maruti Suzuki Super Carry
Partners is the only agency in India to have invested on Maruti Suzuki's Super Carry for showing the actual applications through BTL activites.
Incredible Rural Himachal
A Community-based tourism initiative to help locals benefit from the diverse heritage. Teamed with HPTDC and Yes Bank, Partners carried out extensive research to establish their cross-platform digital presence.